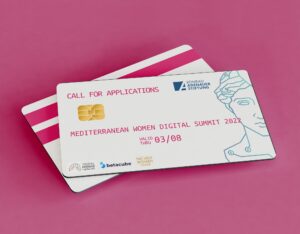 For its 4th edition, the Mediterranean Women Digital Summit goes regional!
This year's summit will explore the trends and patterns of female-founded and/ or led startups with a particular focus on funding, policies, and practices to support stronger and better funding of women-led startups in the South Mediterranean region.

Eligibility Criteria

• Must be a citizen of the following countries : Algeria, Jordan, Lebanon, Libya, Morocco, Palestine, Tunisia
• Open to female founders and leaders of early-stage startups
• Must demonstrate strong entrepreneurial skills
• Very good command of English
• Must be available to attend the MWDS22 in Amman on 25-27 September 2022
• Must have a valid passport
• Must be fully vaccinated
How to apply ?
Complete the online application form via this link.The deadline for submitting applications is 3 August, 2022.